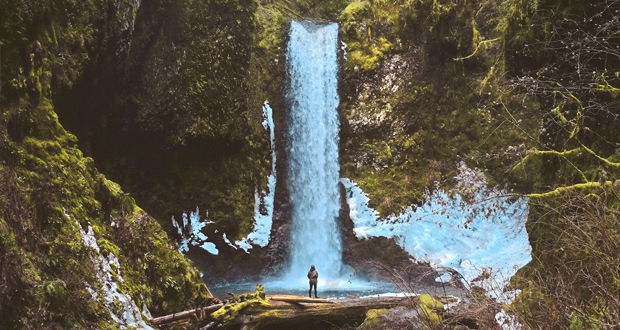 Randy P. Martin Captures the Wild
Randy P. Martin's early memories of photography center around his grandmother's Polaroid camera. "It was like magic for me," said Martin, but without a camera of his own, it wasn't until much later that Martin would begin to seriously shoot. When an ankle injury sidelined him from skateboarding with his friends, Martin stepped behind the lens and began capturing skate tricks with a video camera. "Skateboarding was life," said Martin, "and the transition from filming to photography was pretty natural." Martin's ad hoc exposure to videography eventually led to photo shoots with a Canon F-1, and later to Martin's high school dark room. "I never intended for photography to lead to a paying gig of any kind," said Martin, "but over the years photography's allowed me to have the freedom to work when I want to for the most part."
For Martin, photography is more than a means of income, it is a gateway to adventure around the world. "I shoot when I travel," said Martin. "At home I almost never feel an impulse to pull my camera out. Over the years, I've traveled to, and shot photos in, 44 of 50 US states and in 22 of our 59 National Parks. I've also brought my cameras abroad to China, Israel, India, Cambodia, Laos, Canada, Mexico, Belize, Guatemala, and most recently Colombia."
It's no surprise that we here at 50 Campfires were drawn to Martin's work. With images that share a compelling narrative about freedom, adventure and the great outdoors, Martin's photography tells a story about a world where we all have the ability to head off on a journey toward the horizon, seeing sights rarely seen and experiencing everything the world has to offer. "Just get up and go," advises Martin. "One visit to Glacier National Park, or your first swim in an ocean will probably be all it takes to get you hooked. Being outside, maybe a bit out of your comfort zone, learning from it and coming back to camp at the end of the day is one of the best feelings in the whole world."
50 Campfires: Your job as a photographer has taken you to some amazing places, all over the world. What adventures have inspired your work?
Randy P. Martin: It's true, I've been to some places around the world that've really melted my mind. I think my favorite times though have been in my own country, road tripping around the states with friends. Most recently I spent 3 months traveling all around the south on a converted 30 foot school bus from the 80s. Some friends of mine picked up Gramps, as we lovingly refer to the old clunker, at the beginning of 2015. The whole interior got stripped, and built out into a living space with bunks, a kitchen area, and some space to lounge. We set out in early October, chasing down summer as we headed south on what's most easily described as a National Parks tour. Now I'd never driven anything larger than a standard car before, but being as Gramps' top speed is 66 mph the five speed manual monster seemed a bit more manageable. After some practice rounds in a Walmart parking lot, it was time to get on the road and try not to hit anyone.
Our starting point was Chicago where the weather already had us pulling out some winter gear but within 8 hours we were all stripping layers and putting icy beers on our foreheads to cool down in Kentucky. The next day we hiked into the longest cave in the world. The day after that we put our packs on and started a two and a half day trek that covered 35 miles through the Great Smokey Mountains. Over the next few months the four of us would cover 12 states, visit 10 National Parks, eat lunch 800 feet below ground, climb the highest point in Texas, swim across the Rio Grande to Mexico, fracture ankles (and still hike on them), camp on an active missile range, drive through snow, rain and sand storms, hike to the bottom of the Grand Canyon and try to not do anything too stupid to get any of us seriously hurt. Can't wait to head back out this coming summer.
50 Campfires: How has your drive to experience new things shaped you and your work?
Randy P. Martin: Growing up with a single mom who didn't have a choice but to work her butt off, I was usually left to my own devices as a young guy. There wasn't a lot going on around my small midwestern town so my brothers and I would make our own fun – exploring every corner of every neighborhood and sneaking into places we weren't supposed to be. So pretty early on I had a sense of adventure and the draw to see new spaces developed. I've always had an inherent drive to document my life, and since spending time outdoors became a big part of it, which wasn't until I was in my mid twenties, I've had a camera on my hip every step. Looking back through old archives is a huge joy for me, so capturing those good times with friends is definitely a goal that luckily comes somewhat naturally for me. 
50 Campfires: Your style of photography seems to be pretty well-defined and unique; what's your process like when you're composing a shot?
Randy P. Martin: Creating an image for me usually consists of some beautiful thing catching my eye, then scrambling for my camera and poking at the shutter before the moment's gone. The composition aspect I think is mostly subconscious for me. There's not usually any specific idea I have of how I want an image to look, but I do end up running around a lot, climbing on things and whatever else it takes until something in my brain goes, "Now I like the way this looks," and then I take a breath, and click.
50 Campfires: What advice do you have for amateurs, folks that might just be shooting with an iPhone, looking to improve their outdoor photography?
Randy P. Martin: It might not sound like the most fun thing ever, even though for me it was, but start with the fundamentals of how photography works. Buy a manual camera – an analog one that has the option to turn off any auto settings. Research how it functions, how the basics of shutter speed, aperture, ISO all interact with each other. Shoot a lot, and pay attention to which combination of settings work in different lighting situations. Also, try not to rely too heavily on influences. The more you shoot, the more your images will become your own.
50 Campfires: You've shot in some pretty remote, isolated places. Have you found any outdoor gear to be indispensable in your adventures?
Randy P. Martin: I've spent a good long while curating the right pack for myself, and over the last year or so I think I've finally figured things out. I really love trying out new gear, seeing what works for me and what doesn't. At this point, my base pack weight for a 3 day trek is 7.8 pounds. Could be better? Sure, but I'm damn comfortable during the hike and cozy in my tent at night with this current setup. A couple of items in my pack that I'd never want to do without are:
An established and award-winning photographer with his basecamp in Chicago, Randy P. Martin travels the world, documenting his travels with his camera. Martin has won Red Bird Edition's2013 Open Call, and was a runner up in the 2011 Hey Hotshot! Competition. He has been featured on the cover of KLM Airlines Flying Dutchman and the most recent edition of Portland Oregon based Stay Wild Magazine. Martin's work can be seen in books like "Kate Spade NYC's Places To Go People To See," and all over the web on sites like Evian, The Daily Mail, Poler, Aritzia, Lomography, and Lagunitas Brewing.
To see more of Randy P. Martin's work, visit his flickr page.