One of the challenges of being away from civilization is finding potable drinking water. Most camping locations offer clean water for drinking and cooking, but if you choose to go for a long hike or set up camp far away from the nearest clean water source, you might find yourself needing some extra water. Enter the RapidPure Pioneer.
RapidPure filtration reduces more contaminates than any other recreational filter. Either you have a Pioneer Straw water filter, or you become the filter. I put it to the test. Here's what I found: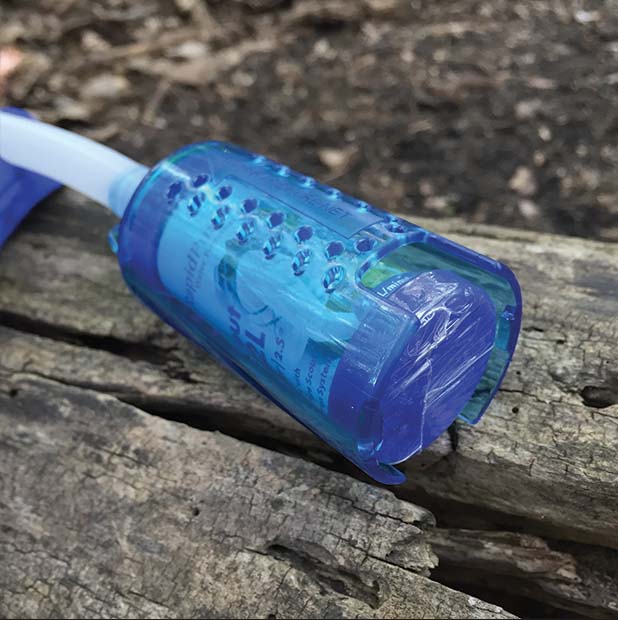 Functionality: The RapidPure Pioneer Straw has one job, provide clean water, and it does it flawlessly. When you take it out of the carrying case that the Pioneer Straw is stored in, you'll see two basic parts: A straw and a filter. The filter itself with have a plastic wrap over it, so pop the filter out and remove the wrapping prior to using. The RapidPure Pioneer Straw removes bacteria and viruses at 99.9999%. Let that number sink in… This small, portable system allows you to drink water from lakes, streams, even ponds with little or no current. If you're into the science and engineering of how your products work, check out RapidPure's video here.
Durability: I love things that are simple. In my mind, the less moving parts, add-ons, gadgets, and do-dads a product has the longer it will last (and the less likely I am to break it). The RapidPure Pioneer is about as simple as a system gets: A heavy-duty straw and a filter. Don't let the simple design distract you from the fact that you are carrying around a serious piece of technology in your camp box.
Ease of Use: The Pioneer is extremely small, portable, and most importantly, incredibly easy to use. I love that there is almost zero restriction from the filter while using the straw.
Value: Can you really put a price on fresh, clean water? At $42.99, you get a piece of gear that could literally save your life. The filter in the Pioneer is interchangeable with RapidPure Scout for hydration packs so it will last for years. Factor in the simple, no-nonense design, I expect my Pioneer Straw to last for years. I look at it as an insurance policy that allows me to pack lighter, go further, and stay out longer.