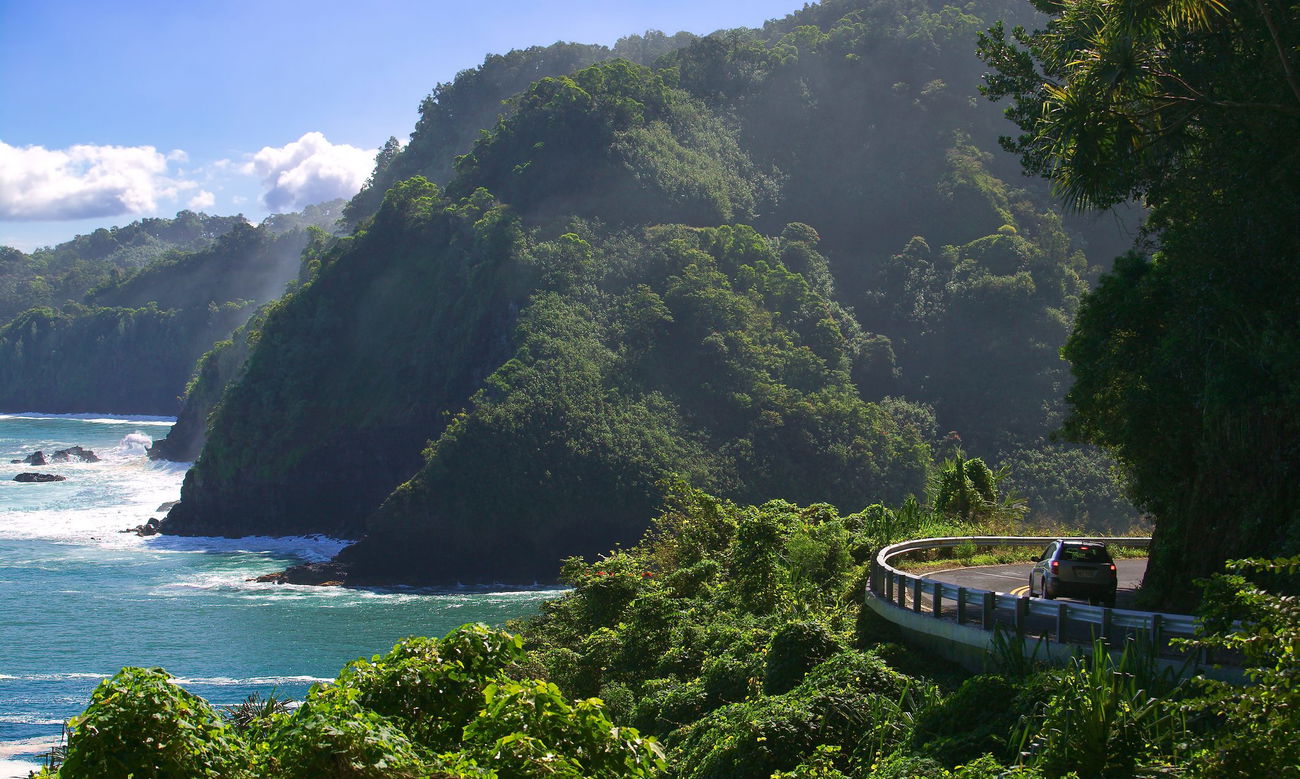 The Best Scenic American Highways For Your Next Road Trip 
The United States is massive, so if you want to see as much of it as possible, you need to be strategic. Luckily, the U.S. is also full of scenic highways, to help you reach these breathtaking locations. If you've been looking for summer road trip inspiration, here are our favorite scenic highways throughout the United States.
Overseas Highway, Florida
If you want to get to Key West, Florida via land, the Overseas Highway is your only route. The Overseas Highway has become an incredibly popular drive to make when you're in Miami, also known as "the Highway that goes to sea," consists of 42 bridges and is part of the longest US north-south route, Highway 1.
Key Stops: While in Key Largo, make sure to stop at John Pennekamp State Park, the first underwater state park. They offer Glass Bottom Boat Tours where you can take in the beautiful aquatic wildlife. Stretch your legs in Marathon, and take the opportunity to swim with the dolphins at the Dolphin Research Center. With beautiful ways to connect with the flora and fauna that Florida has to offer, you'll want to take your time with this one.
Must-Stop Photo Opp: When you finally complete your trek, you'll want to snap a picture with the iconic Mile Marker 0. You'll want to take in these breathtaking sunrises and sunsets during this trip. Make sure your cameras are ready.
Historic Route 66, Chicago, IL to Los Angeles, CA
Coming in as the longest scenic highway on the list, Historic Route 66 (also known as "Main Street of America") has a special place in pop culture. The National Parks Service highlights over 100 sites for you to add to your itinerary. To drive Route 66 in its entirety would be over two thousand miles. 
Key Stops: Route 66 has so many beauties and oddities that make it hard to choose. Grab a bite to eat at the Route 66 Diner and bask in its neon glory. Stop in at the Largest Catsup Bottle in the world and spend the night at the Wigwam Motel. If you have kids with you, make sure to stop at the Route 66 Hall of Fame and Museum in Pontiac, Illinois, and Cars on the Route in Galena, Kentucky to learn a little bit of history about the movie Cars. 
With all of these options to plan an amazing road trip, there are more than enough reasons to take a drive down Route 66. Nicknamed "the Mother Road," Route 66 will take you to ten National Parks and Monuments including the Gateway Arch, the Grand Canyon, and the Hoover Dam.
Must-Stop Photo Opp: The Route 66 End of the Trail sign, located at the Santa Monica pier.
Blue Ridge Parkway, Virginia to North Carolina
Known as "America's Favorite Drive," the Blue Ridge Parkway consists of 469 miles to drive through diverse ecosystems, some only found in the Appalachian Mountains. This highway runs from Shenandoah National Park to the Great Smoky Mountains.
Key Stops: Make sure to do the Skyline Drive in Virginia to take in the gorgeous rolling hills of the Blue Ridge Mountains, and stop in at the Largest Single Family Home in America, Biltmore in Asheville, North Carolina. At milepost 213, take a break to stretch your legs and enjoy some classically Appalachian tunes at the Blue Ridge Music Center. 
Of course, there will be plenty of beautiful places to stop and take in the beauty that the Blue Ridge Mountains have to offer. 
Interested in learning a bit more about the rich history of Appalachia? Stop in at the Folk Art Center, Museum of the Cherokee Indian, and the Asheville Art Museum to better understand the history of craft that is quintessential to the Blue Ridge Mountains.
Must-Stop Photo Opp: Mount Mitchell, the tallest peak east of the Mississippi River, and take at Sliding Rock in Pisgah National Forest. 
Mount Washington Auto Road, New Hampshire
We've all seen that classic "This Car Climbed Mt. Washington" sticker, but why is it so iconic? Mt. Washington's Auto Road is known as the first Man-Made Tourist Attraction. It is the highest peak in the Northeastern United States and is worth the drive to see the beautiful views. Mount Washington is also known for its extreme weather patterns. If you love to explore in the snow, this is the scenic drive for you.
Key Stops: If you want to see the peak but you're not interested in taking your car, take the Mount Washington Cog Railway or a SnowCoach. The Cog Railway will take you from 2,700 feet above sea level to 6,288 feet and the SnowCoach will take you to the highest peak. When it's snowing, make sure to pack the skis and take a trip down Great Glen Trails. 
If you're interested in seeing some of the natural wildlife in the area, make sure to check out the Gorhman Moose Tours or go on a dog-sled tour with Muddy Paw Sled Dog Kennel.
Must-Stop Photo Opp: If you're going to New Hampshire in the warmer months, make sure to check out Tuckerman Ravine for beautiful photographs and hikes. 
Road to Hana, Hawai'i
Though you can't necessarily take a road trip to the Hana Highway, it is one of the main attractions on the island of Maui. The Hana Highway is known for its immense beauty and waterfalls. The road will take you through rainforests and other beautiful scenery during your trip to Hawai'i.
Known for the beautiful waterfalls, many people stop at the first ones they see, causing traffic and a lack of parking. When you drive the Hana Highway with a guide, they'll show you the most gorgeous waterfalls on the highway. 
Key Stops: When you're on the Road to Hana, check out the Maui Garden of Eden. With 2.5 miles of walking trails and 700 herbaceous species, you'll be able to immerse yourself in the beautiful scenery. Looking for a little more adventure? Check out Rappel Maui for a rappeling waterfall tour. Of course, there are also gorgeous beaches along the way that you can stop to relax.
Must-Stop Photo Opp: Make sure to stop at Hana Town to learn more about Hawaiian History and try Braddah Huts Barbecue, and get some deliciously photogenic food.
Before driving the Hana Highway, please consider booking a Road to Hana Tour, for the safety of the island and tourists.
Pacific Coast Highway One, California
Drive from San Francisco to San Diego on California 1, and you'll pass through during your drive on the Pacific Coast Highway are truly breathtaking. At 656 miles long, California 1 is the longest state highway in California.
Key Stops: As you drive down the coast, make sure to take a few detours to stop and visit attractions on your way. Stop in and see the Golden Gate Bridge when you're in San Francisco. Visit Hearst Castle to learn more about the gorgeous history of the area. If you got kids with you, make sure to check out the San Diego Zoo and the Santa Monica Pier for some kid-friendly fun. 
Must Stop Photo-Opp: For gorgeous, aerial views of the Pacific Ocean, make sure to check out Julia Pfieffer Burns State Park. With only a half a mile hike up to the overlook, you won't want to miss out. Not interested in the beach? That's okay too! Make sure to check out Red Wood State Park to see the stunning forest. 
Dinosaur Diamond Prehistoric Highway, Utah to Colorado
The Dinosaur Diamond Prehistoric Highway provides individuals cruising it with a unique experience. As an active excavation site, paleontologists have been making discoveries here for over 100 years. Take breaks by going to see Indigenous art in its natural settings.
Key Stops: If you're going to drive the Dinosaur Diamond Highway, you have to stop in at the Jurassic National Monument. While you're there, you'll be able to see current excavation sites. While you're on the road, make sure to stop in at Arches or Canyonlands National Parks to take in a gorgeous hike. There are also plenty of places to stop and bike, camp, and backpack during your trip down the highway.
Must Stop Photo-Opp: Stop in at Salt Lake City and take some time to explore the Natural History Museum to learn more about what came before us. Or, go to the Utah State University Eastern Prehistoric Museum and see exclusive archeological objects.
Red Rock Scenic Byway, Arizona
Just a few hours south of the Grand Canyon, Red Rock Scenic Byway is easy to add to a summer road trip. During your drive, make sure to check out Bell Rock or Cathedral Rock. Many visitors fall in love with the scenery.
Key Stops: If you're driving the Red Rocks Scenic Byway, you'll want to make sure you stop in and see some of the sights in Sedona. Make sure to take an aerial tour of the area from a hot air balloon. Get out on a self-guided Wildlife Safari or a Pink Jeep Tour of the gorgeous rocky area.
If you're looking for something fun to do with children, check out the Flagstaff Extreme Adventure Course for tree-to-tree adventures, and if you're looking for some downtime after busy days of hiking, take some time to check out Uptown Sedona for some shopping, art galleries, and food tours.
Must Stop Photo-Opp: If you're an architecture buff, you'll want to check out the Chapel of the Holy Cross, designed by Marguerite Brunswig Staude, a student of Frank Lloyd Wright.
Badlands Loop Road, South Dakota
Badlands Loop Road is a great way to see the North Unit of Badlands National Park. Though this is one of the smaller roads on our list (it would only take an hour to drive, without stops) there are 16 overlooks to take your breath away.
Key Stops: Driving the Badlands loop will give you the excellent opportunity to see a large portion of the national park. Learn the history of the area and South Dakota used to be an ancient sea. Make sure to stop at the many overlooks to take in the gorgeous views and take in a sunrise or sunset during your time in the park.
If you're interested in learning further about natural history in the area, you can stop at the Oglala Lakota Living History Village to learn more about the voices of the land.
Must Stop Photo-Opp: Want to get some close-ups of some animal life? During your trip to South Dakota, check out the Reptile Gardens and Bear Country USA. And in Badlands National Park, make sure to stop in at Roberts Prairie Dog Town or watch the bison, the United States National Mammal.
Beartooth Highway, Montana to Wyoming
While driving Beartooth Highway, you'll drive through several national forests and will be led to the northeast entrance of Yellowstone National Park. This drive makes a great addition to your road trip through Montana and Wyoming. There are many different switchbacks, and the higher up the mountain you get, the better the views will be. If you drive past Rock Creek Vista, you'll cross the 45th parallel- the halfway point between the North Pole and the Equator. 
Key Stops: Driving through during the winter creates a must stop at Red Lodge Mountain for some skiing. It's a favorite of the locals. Anytime of the year, head over to the Carbon County Historical Society & Museum. Here, you'll be able to learn about the indigenous cultures and the rodeo traditions. 
Must Stop Photo-Opp: If you have a sweet tooth, make sure to stop in at the Montana Candy Emporium and get a sugar-fuelled selfie.
As you gear up for your great American road trip these scenic drives will make great additions to your itineraries. Which is your favorite? Let us know in the comments below.