5 Things You Didn't Know About Isle Royale National Park
If you're looking to visit a unique U.S. National Park that's off the beaten path, Isle Royale National Park is your destination. The park sits on an island in Lake Superior and is one of just a handful of national parks requiring you to take a ferry or boat to get there.
Isle Royal National Park is technically part of Michigan, but the island sits closer to Minnesota and on the international border of Ontario, Canada.
Pack your jacket and beanie, and don't forget the bug spray. Here are five incredible facts you may not have known about Isle Royale National Park.
5. Cars (and Almost Every Wheeled Vehicle) Are Banned from the Island
To get to Isle Royale National Park, you'll need to take a ferry from one of two harbors in Michigan. As is the goal with most national parks, preservation is key, so that means no cars are allowed on the island. There's also a ban on bikes. The best way to get around is to hike, canoe, or kayak.
4. The Winter Weather Is So Harsh the Entire Park Shuts Down
Isle Royale is only open from April through November. In fact, it's the only U.S. National Park to officially close each year for the winter. The far north climate averages about 10-25 degrees Fahrenheit during the winter, but temperatures can drop to -20 degrees Fahrenheit. Being surrounded by water also means there's plenty of moisture, so expect rainstorms and mosquitoes for most of the summer.
3. There Are Dozens of Historic Cottages Still on the Island
During the early 1900s, the island was advertised as a summer destination. Demand was high for these beach cottages. The cottages' popularity grew when the federal government announced it may become a national park. In order to buy up the island, the U.S. National Park Service offered lifelong leases to the cottage owners, which is why so many cottages remain today.
2. There's a Chance Visitors Can See the Northern Lights
The remote location in Lake Superior and its high latitude means conditions are prime for seeing the Northern Lights. With no nearby artificial light, the night sky lights up with stars, and the Aurora Borealis makes an appearance on the right occasion. It's important to note that seeing the lights is never guaranteed.
1. More Than a Dozen Wolves Call Isle Royale National Park Home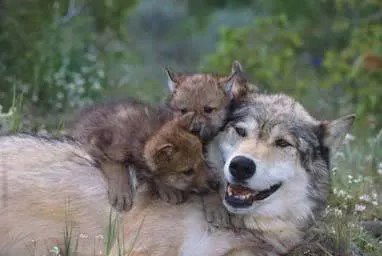 Park officials say timberwolves have called this island home for decades. However, the population of wolves is constantly changing. Park rangers recorded 50 wolves on the island in 1980. That number dropped to just two wolves in 2016. Fortunately, that number has grown back to 14 in 2019. Environmentalists say the number of wolves directly correlates to the number of moose on the island. The more moose, the more wolves.