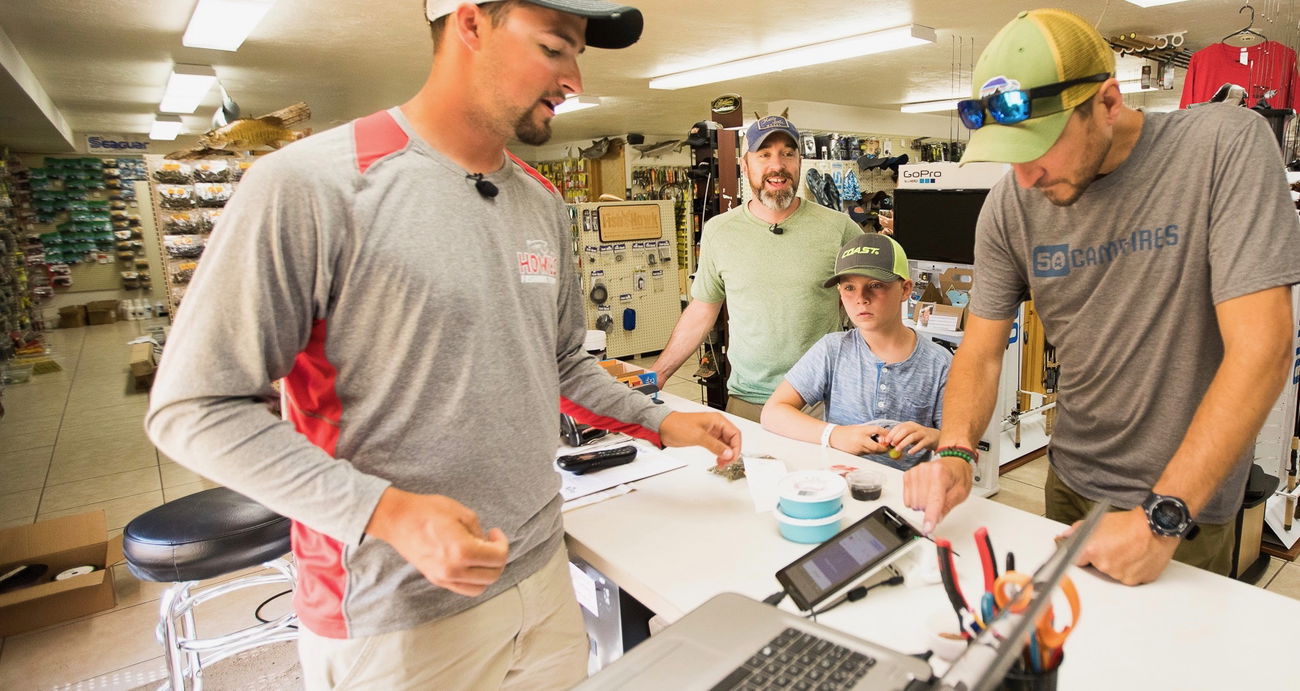 Buying Your Fishing License And Understanding Regulations
Fishing really is a simple pursuit. That's a big part of what makes it so much fun for so many. However, before you dive in (okay, bad pun), there are a few details you need to take care of. They are:
Where to go fishing
Buying your fishing license
Understanding a few simple regulations
Learning the basics
These things are not difficult at all, especially considering the many resources available to assist you. Here's our easy-to-follow advice to quickly and conveniently take care of these pesky details and focus on the fun you will have and the memories you will create.
Where to Go Fishing
As we've already covered, first fishing trips – for any new angler – are best done from shore or a fishing dock. A boat is okay if you have access to one, but first fishing trips in a boat can be more restrictive than fishing from shore. Unless the owner of the boat is super-understanding, they may not be willing to come in quickly when new anglers get bored. Remember, first fishing trips should only be as long as the newcomers (perhaps, including yourself) are showing eager interest. Forcing the issue is the surest way to sour the potential for great memories.
So, that creates the question, "How do we find good places to fish from shore or public fishing docks?"
The first places to check out are state, regional, and county parks in your area or near where you'll be camping. The websites covering these parks will nearly always tout the fishing facilities they have available. Once you discover them, it's probably worth a phone call or an email to the park managers to ask about when they are the busiest, what's the best time of year to go there, and of course, "How are they biting?" You'll also want to ask what other activities and facilities are available immediate to the fishing spots – picnicking, hiking trails, canoe/kayak/paddleboat rentals, swimming beaches, campsites, campfire rings, horseshoe pits, geocaches, etc.
Best Adventure May Be Just Down The Street!
Urban Fishing: A fishing adventure doesn't require an epic journey. In fact, most urban areas have all kinds of fishing opportunities probably just a few minutes from where you live. Some are stocked ponds. Some are actually flowing water like streams and rivers. Almost all of these urban fishing areas also boast plentiful other outdoor opportunities like picnicking, swimming, hiking, horseshoes, geocaching, and many more. You can search for places in your area through the Zebco website.
Another great digital source to check is the "Take Me Fishing – Places to Fish and Boat" map powered by FishBrain and presented by the Recreational Boating and Fishing Foundation. You'll find the interactive map right on Zebco's website. Checking out this resource will put totally interactive and detailed maps at your fingertips. The maps even include daily updated info on what you will catch and how they are biting along with plenty of local resources for other activities.
Buying Your Fishing License
By participating in fishing, you are helping to conserve fish resources. Fishing licenses make it all possible.
Not everyone needs a fishing license at all times. Youngsters generally don't need one until age 16, though this varies by state. Some states offer free or discounted licenses for senior citizens. Most states offer one or more "free fishing days" each year to encourage participation – one of the most popular is Mother's Day. Fish & Game Departments also offer free fishing days at state parks once or twice a year.
Even so, you should consider buying a license even if you don't need one since it supports conservation. There are usually multiple options for a full-season license, one good for a week or two, another for a few days, and perhaps even a license for a single day. A few dollars buys you many hours of fun and memories. Compare it to professional sporting events, theater tickets, or even a nice meal out, and you'll see what a bargain a fishing license really is.
There may be special licenses required depending on what species of fish you'll be after and what bodies of water you'll be fishing. However, this makes it sound a lot more complicated than it really is. TakeMeFishing.org has assembled a complete list of license resources for every state. A quick visit to this listing on Zebco.com will answer all your questions in just a few minutes. You can even use these resources to buy your license directly online so there will be no time wasted getting to the fun.
 Understanding a Few Simple Regulations
Fishing regulations exist to ensure the resource is available to everyone. However, there's not much to worry about, especially when you're after pan fish or rough fish (like carp and bullheads), which provide the best action for all beginning anglers.
If you're practicing catch and release, you won't have any problems. Just follow the steps we provided earlier to get the fish back in the water quickly and in good shape, and you don't have to worry about bag limits or what's in season. Even if you want to keep some fish for a meal, whether they are perch, crappies, sunfish, bluegills, or rough fish, you'll likely be fine keeping as many as each angler will eat in one meal.
Most popular public shore fishing locations and boat launches will have signs posted if there are any regulations you need to know for that body of water. If you want more details TakeMeFishing.org has additional information and resources to check out. Clicking on the "State Info" tab will take you to a list of all 50 states. Selecting the one you need to know about, and clicking on a link there will provide all the regulations for that state.
Fish and game departments in every state want you to give fishing a try. They are updating their websites so that finding the information you need is quick and easy.
Learning the Basics
There are two ways to look at first fishing adventures, and they are both good. The first is to do your planning and learning with the help of resources like this 50 Campfires Ultimate Guide to Family Fishing Fun, then be bold! Find a place to fish, get your basic gear and licenses – then just go fishing and enjoy yourself – because remember – if you've planned it right, success isn't measured by how many you catch, it's about how much fun you have!
The second is more traditional, but it's equally valid. Consider hiring a guide to take you on that first fishing trip or two. You might think this is a big leap, but there are advantages. For example, most guides have all of the gear you will need and it's set up the best way to catch fish on the water you'll be fishing. You won't need to invest in gear until you determine if fishing is for you. On top of that, the guide really wants you to be successful – no matter what your definition of success – because his business relies primarily on good word of mouth advertising. If you have fun, he knows you'll tell other people. If you don't have fun, he is even more certain you'll tell other people!
The best guides are not only great fishermen; they are great teachers. On top of that, if he has been fishing a particular body of water for years, he's going to know all about the other recreational opportunities in the area and he will share those insider secrets with you.
Fish Go To Schools – You Can Too! Meet Guppies Fishing Adventures.
When trying sports like snowboarding, golf, or stand up paddle boarding, it's common to try them out by taking lessons. The same is becoming increasingly true for fishing!
On a recent 50 Campfires Field Trip to urban Los Angeles, our crew ran across a fishing school especially designed for beginning anglers. "Guppies Fishing Adventures" is a fishing guide service for kids and beginners of all ages. They provide all of the tackle and equipment needed with an experienced fishing guide for a fun and memorable day on the water. They offer both pre-planned classes and custom fishing adventures especially for beginning anglers.
Lorenzo Sandoval is a licensed California fishing guide with more than 20 years experience. His passion is for introducing newcomers – of any age – to fishing, but he gets it! His classes and trips are more than simply about catching fish. He strives to give each student a new adventure that instills an appreciation of the outdoors without smartphones or iPads. One of the coolest things about Guppies is they offer wonderful fishing adventure within easy reach of the Los Angeles urban core.
Learn more about Guppies Fishing Adventures and enjoy all of the new adventure in the 50 Campfires L.A. Field Trip video on 50campfires.go-vip.net.