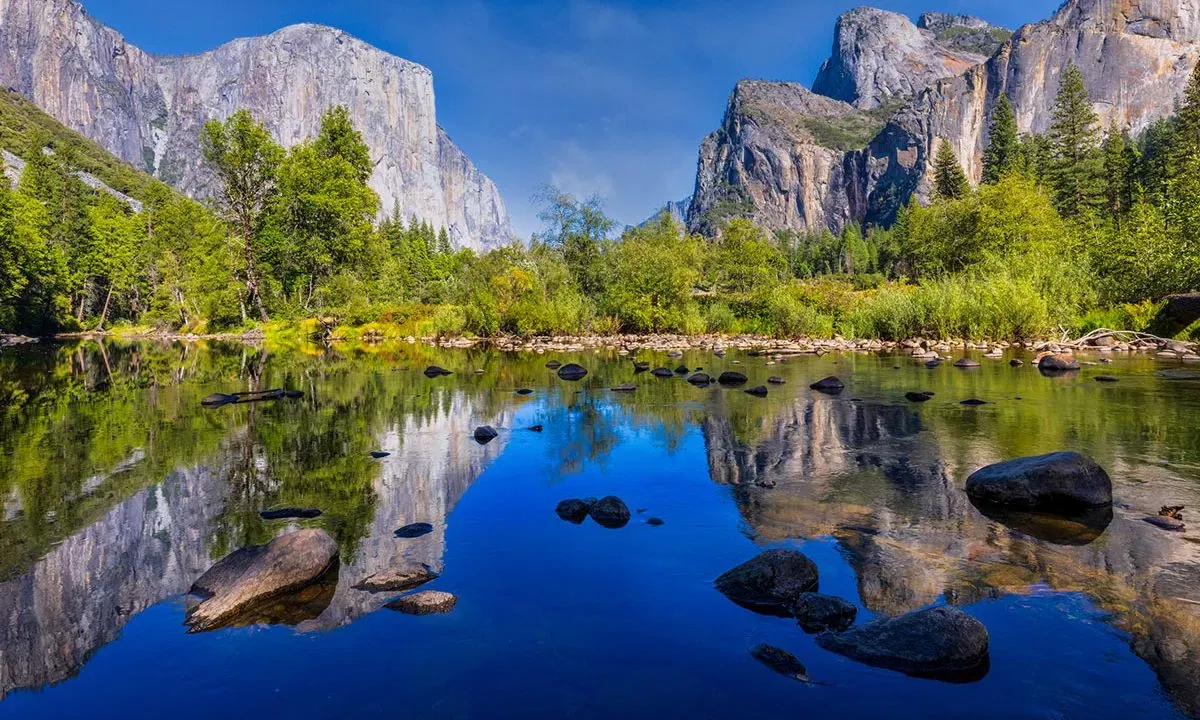 10 of the Most Popular National Parks in the World
Ready to embark on a journey through the jewels of the natural world? National parks allow visitors to take in some of the most breathtaking landscapes and diverse landscapes on Earth. Jump on this whirlwind tour of the world's 10 most popular national parks, each offering a unique blend of awe-inspiring beauty and unforgettable experiences.
Visited by more than 12 million people a year, this incredible park is located on the border of North Carolina and Tennessee, and it's often considered the most incredible national park in the U.S., thanks in part to its historic ghost town, natural rainforest (one of the only in the U.S.), and the fact that it's free to enter, making it accessible to just about anyone. There's even a romance film coming out about this famous national park, so if you can't make the journey, at least watch Love in the Great Smoky Mountains National Park on the Hallmark Channel instead.
Known for its awe-inspiring landscapes, the Grand Canyon draws millions of visitors each year, nearly 5 million, to be exact. The Paiute name for the Grand Canyon is Kaibab, which appropriately means "mountain turned upside-down." The Grand Canyon's steep, rusty red cliffs and sprawling natural vistas offer 277 miles of epic landscapes. Take a mule ride, bask in the starry skies at nearby campsites, and cross the historic Navajo Bridge. There's so much to see and do, this national park is not to be missed.
Famous for its red rock formations and stunning canyons, Zion or Mukuntuweap attracts 4.7 million outdoor enthusiasts every year, and it just celebrated its 90 millionth bus rider. Home to one of the most dangerous hikes in the USA, Angel's Landing, Zion is full of unforgettable outdoor adventures to be had. Rent an airstream, hike through the Virgin River and slot-canyon walls in the Narrows, or just enjoy the incredible breathtaking scenery cast by the towering sandstone walls. Without a doubt, Zion is one of the best natural wonders to visit in the world.
4. Banff National Park, Canada
In the Canadian Rockies, Banff offers stunning scenery and numerous outdoor activities for folks who just love being outdoors. 4.5 million people visit Banff National Park each year, and it is a UNESCO World Heritage site, as well as Canada's first national park, founded in 1885. Banff is a great location to get outside and hike. Take a train from Vancouver to Banff and get dinner in the first-class dining car for a mountain-to-city break.
5. Yosemite National Park, United States
With Yosemite's iconic landscapes, including El Capitan and Half Dome, it's no surprise it's a top destination for nearly 4 million nature lovers, photographers, climbers, and hikers each year. Explore gorgeous waterfalls, tube the Merced River, see deer roaming freely, and enjoy the giant granite walls—these moments are some you won't soon forget. Thanks to its popularity, though, this bear-ridden country gets copious traffic jams. To mitigate the effects of the crowds, every year there is a Yosemite Facelift, encouraging visitors and locals to join together to clean up the park.
6. Yellowstone National Park, United States
Renowned for its geothermal features, geological features, and diverse wildlife, Yellowstone is a bucket-list destination for nearly 4 million people per year. Yellowstone National Park is called "the first national park" in the U.S., founded in the late 1800s. With over 2,000 campsites, incredible hot springs, and bears and bison roaming free, it's clear why Yellowstone is a favorite for nature and animal lovers. It's so popular that in June 2023, it had approximately 850,000 visitors in that single month alone.
Cascading waterfalls, crystal blue waters, and luscious green trees, the Plitviče Lakes National Park is otherworldly. Plitviče Lakes is the most popular national park in Croatia, having recorded approximately 1.2 million visitors in 2022. The exceptional natural beauty of this area calls to nature lovers. Walk through the paths weaving above the natural waters (you can't swim) for a journey of two to eight hours to a fairytale land. Enjoy the unusual tufa, or porous rock formation, and subsequent lakes at this incredibly unique destination. It is often called one of the most beautiful places in Europe and is a UNESCO World Heritage Site.
8. Kruger National Park, South Africa
One of Africa's premier safari destinations on par with Kenya, Kruger is home to a wide variety of wildlife with more than 1 million visitors each year. With nearly 2 million hectares of unrivaled diversity, Kruger National Park offers a wonderful combination of wildlife and historical and archaeological sites. Home to all of the continent's most famous species, including over 12,000 elephants, 27,000 African buffalo, 2,000 leopards, and 2,800 lions, a drive through this park will almost guarantee unforgettable big animal encounters. Regarded as the most likely place in the world to see a leopard, this ultra-popular park does often get crowded and even has safari traffic jams. The best times to go are May to October, the South African winter.
9. Thingvellir National Park, Iceland
Approximately 1.3 million people visit the Thingvellir National Park in Iceland each year. At Thingvellir, you can walk between tectonic plates and you can swim between continents. Pronounced "thingvel-lir," this national park is a stop on Iceland's Golden Circle—a map of all the famous scenic places to go in Iceland, combining stunning landmarks and historical places into a circle. Located in an active volcano, Thingvellir is 49 kilometers outside of Reykjavik and worth a visit. It's also a popular location to watch the Northern Lights.
This beautiful park in Chile's Patagonia region features dramatic landscapes and challenging treks. The incredible park is known for its glaciers, lakes, and epic jagged granite mountains. The best part about hiking Torres del Paine is the 17 hours of daylight, which means you'll be able to log a lot of hours on the trails to take in the soaring mountains and bright blue icebergs. See rare llama-like guanacos, stay at the most dangerous hotel in the world, and take in the horn-shaped peaks for an unforgettable trip.